Benchtop Reactors for lab use
| | |
| --- | --- |
| Einheitspreis: | 1142~1680 USD |
| Minimum der Bestellmenge: | 1 Unit |

| | |
| --- | --- |
| Verpakung: | craft box |
| Produktivität: | 100sets/month |
| Marke: | KRYQCN |
| Transport: | Ocean,Land,Air,Express |
| Ort Von Zukunft: | China |
| Versorgungsmaterial-Fähigkeit: | 100sets/month |
| Zertifikate : | CE |
| HS-Code: | 84798200 |
| Hafen: | shenzhen,qingdao,guangzhou |
Produktbeschreibung
Welcome to our factory!
Advantages for your choice:Reasonable prices, high-quality products, professional services, sincere attitude, long-term after-sales
We support OEM&ODM orders.
We have Jacketed double layer glass reactor 1L, 2L, 3, 5 L, 10L, 20L, 30L, 50L, 100L, 150L, 200L for your reference.
Product Description
The SF double-layer glass reactor is designed with double-layer glass. The inner layer can be filled with reaction solvent for stirring reaction, and the interlayer can be passed through different cold and heat sources (refrigerated liquid, hot water or hot oil) for cyclic heating or cooling reaction. Under the set constant temperature condition, in the closed glass reactor, the stirring reaction can be carried out under normal pressure or negative pressure according to the use requirements, and the reaction solution can be refluxed and distilled. It is a modern fine chemical factory, biological pharmacy and ideal pilot and production equipment for synthesis of new materials.
Picture display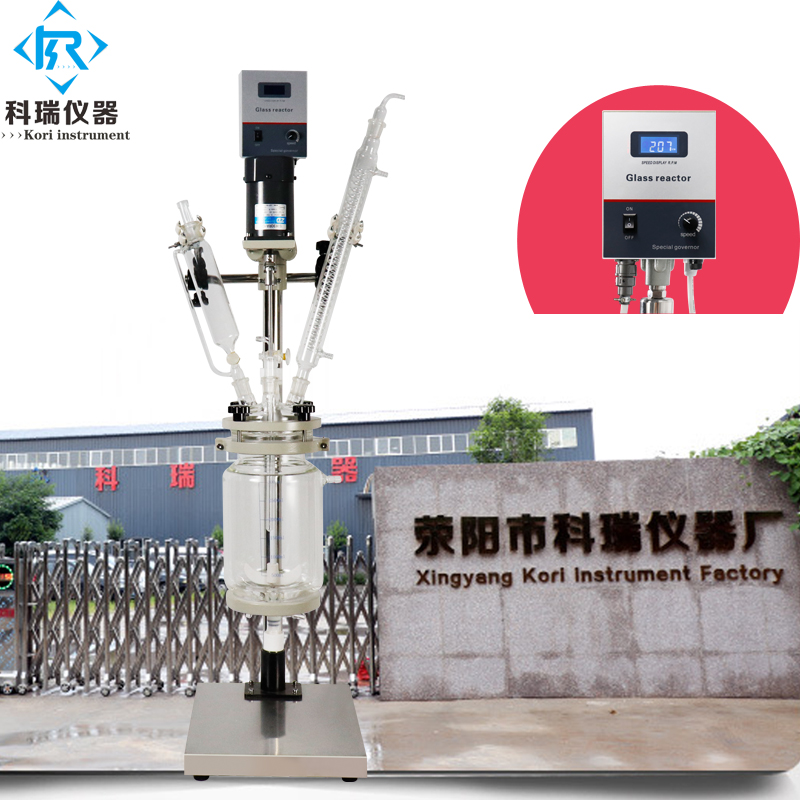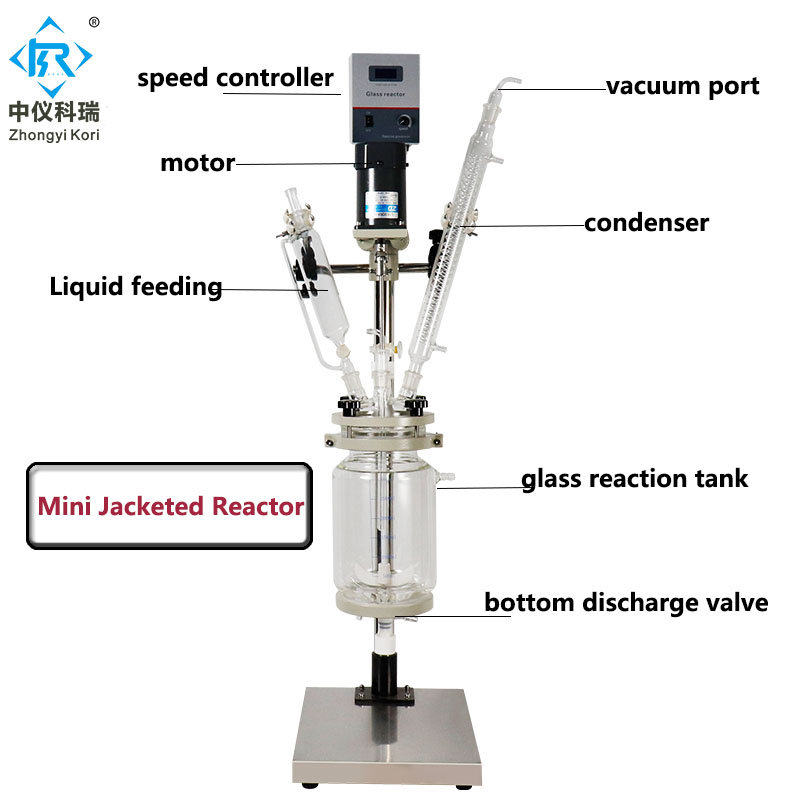 Main Parts display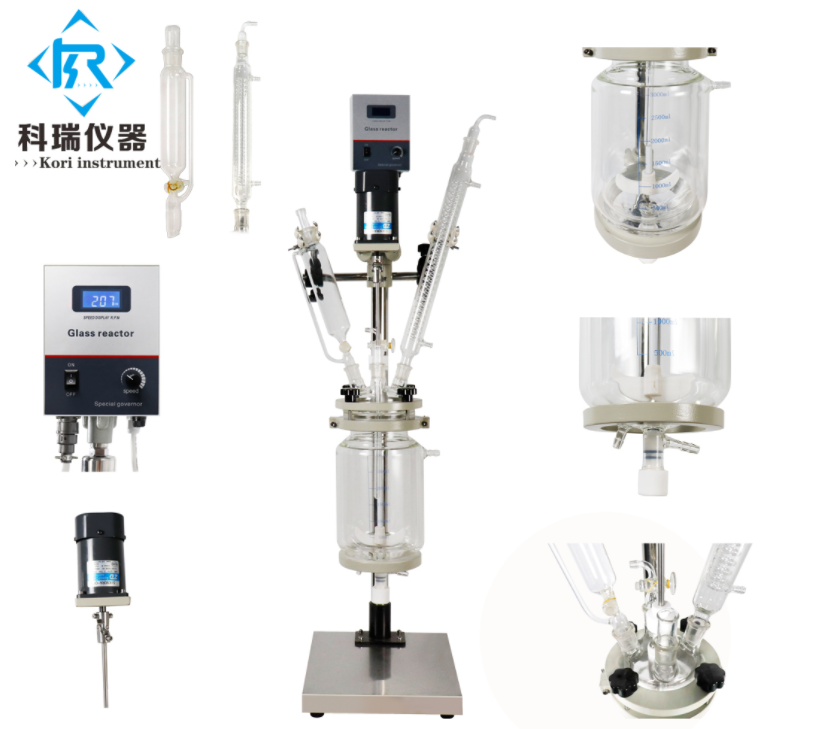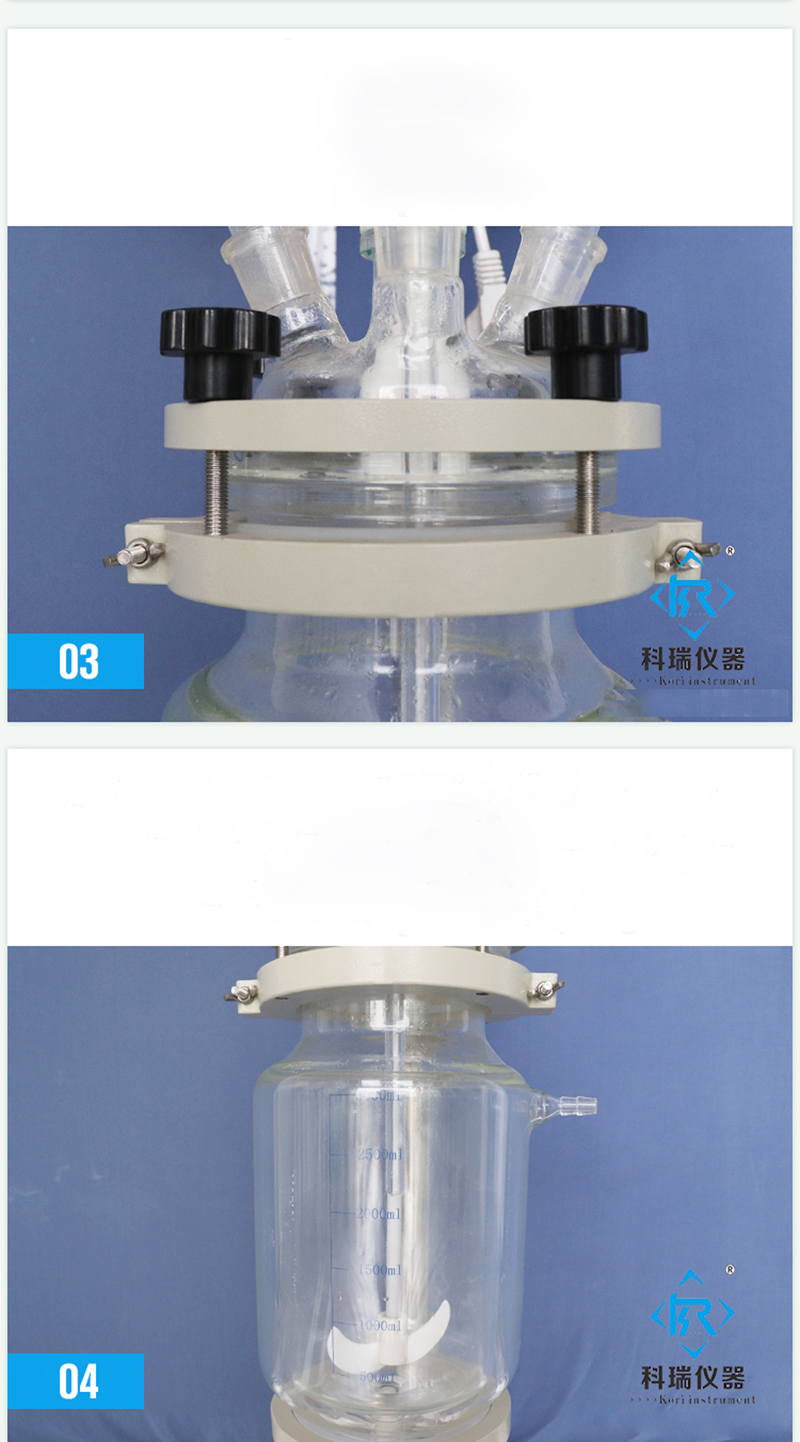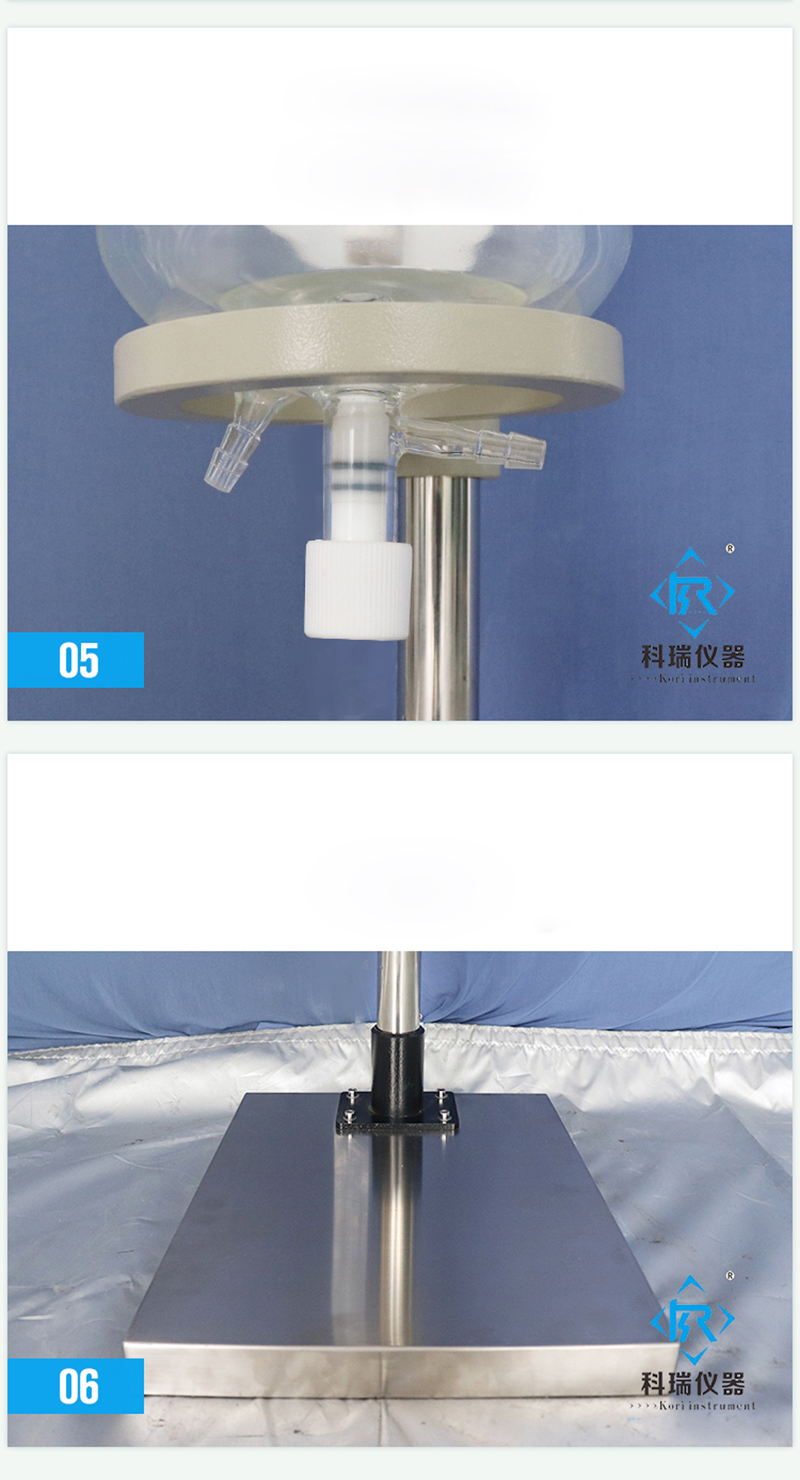 Product Characteristics
1. AC induction motor. Constant speed, no brushes, no sparks, safe and stable, and can work continuously.
2. The whole set of glass instruments are made of GG17 high borosilicate glass, which has good chemical and physical properties.
3. The glass interlayer interface is circulated with hot oil, which can be used for heating reaction, and cold liquid can be used for low-temperature reaction.
4. It can be reacted at room temperature, and the heat of reaction can be quickly taken away by running tap water.
5.The lower discharge port has a flange port and a polytetrafluoroethylene valve. There is no dead angle in the container, and it can be disassembled to facilitate the discharge of solid materials.
6. Four-port reactor cover, extra-large port design for easy cleaning, standard port sockets can be optionally assembled with reflux and distillation synthesis devices.
7. without ex-proof motor
We have other models for your reference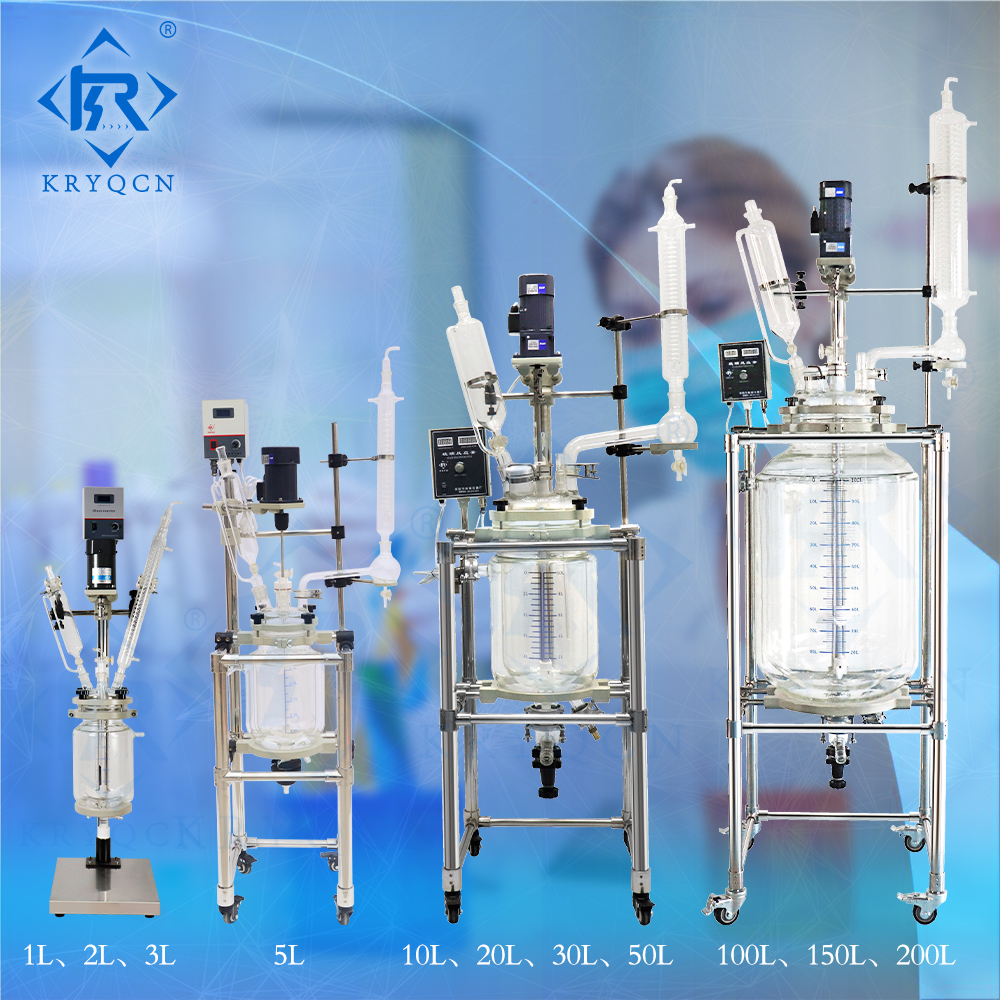 10L above picture display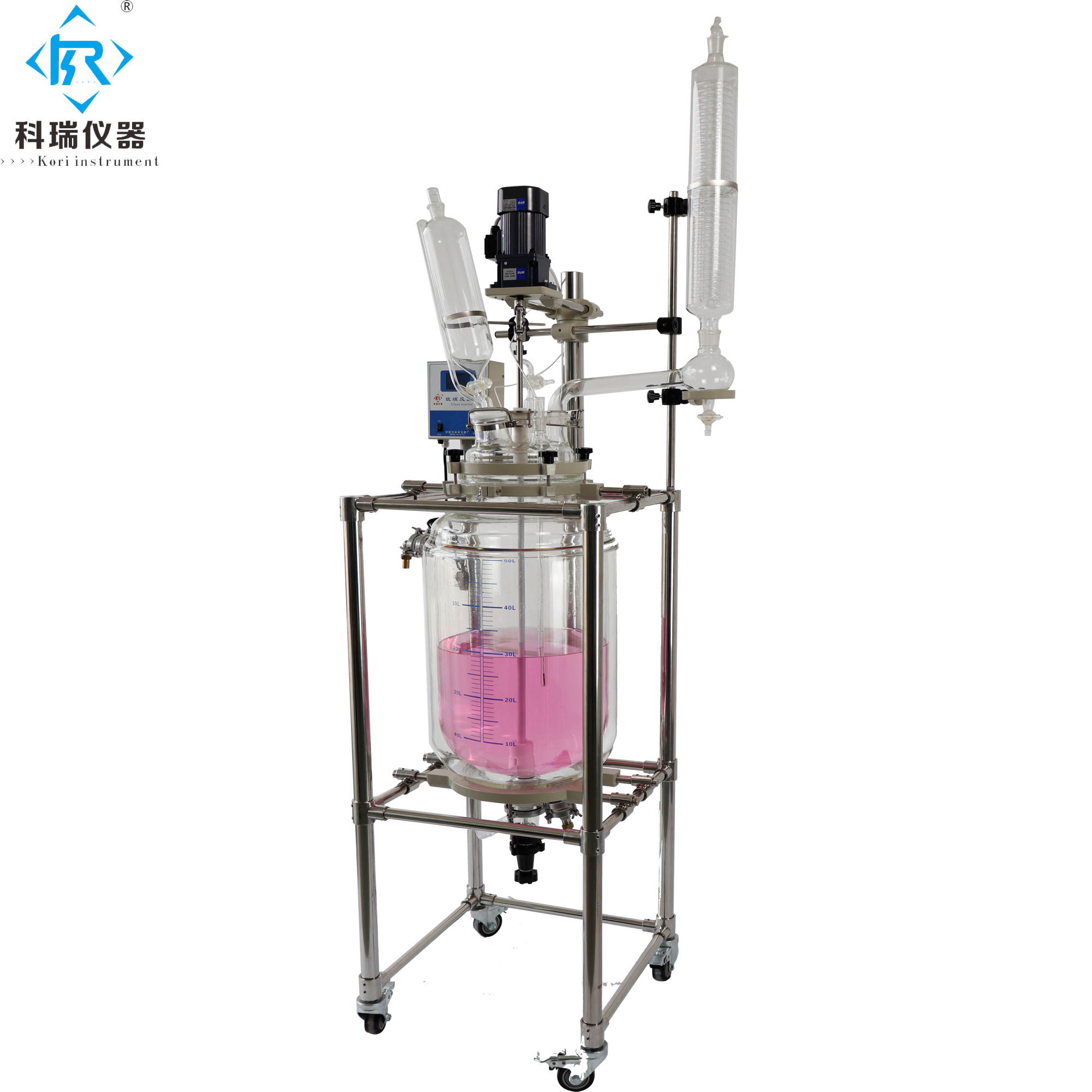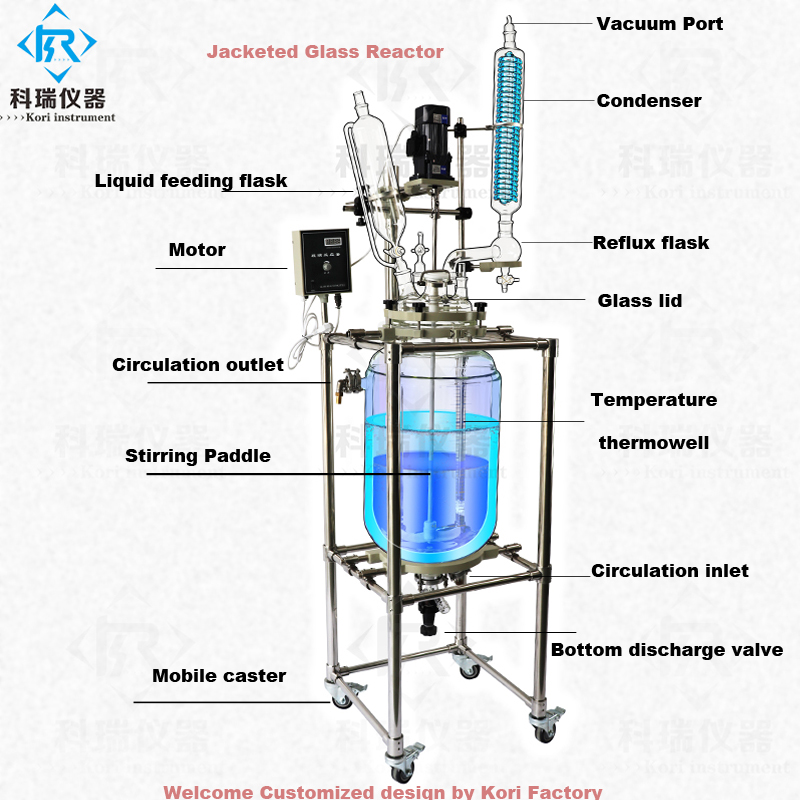 Technical Parameters
Model
SF-1L
SF-2L
SF-3L
SF-5L
SF-10L
SF-20L
SF-30L
SF-50L
SF-100L
SF-150L
without ex-proof motor
SF-10LEX
SF-20LEX
SF-30LEX
SF-50LEX
SF-100LEX
SF-150LEX
Volume
1L
2L
3L
5L
10L
20
30
50L
100L
150
Layer
2
2
2
2
2
2
2
2
2
2
Stirring Power
40W
60W
60W
90W
90W 1/3
120W 1/3
250W 1/3
370W
Without ex-proof motor
180W Ex-proof motor
180W Ex-proof motor
370WEx-proof motor
550W Ex-proof motor
Stirring Speed (rpm)
60-1000
60-600
Dia.Stirring Paddle(MM)
7
12
Discharge valve
PTFE
Vacuum
≥-0.098MPa
Stirring Rod
Stainless steel inside and PTFE outside
10L above Ex-proof Jacketed glass reactor is optional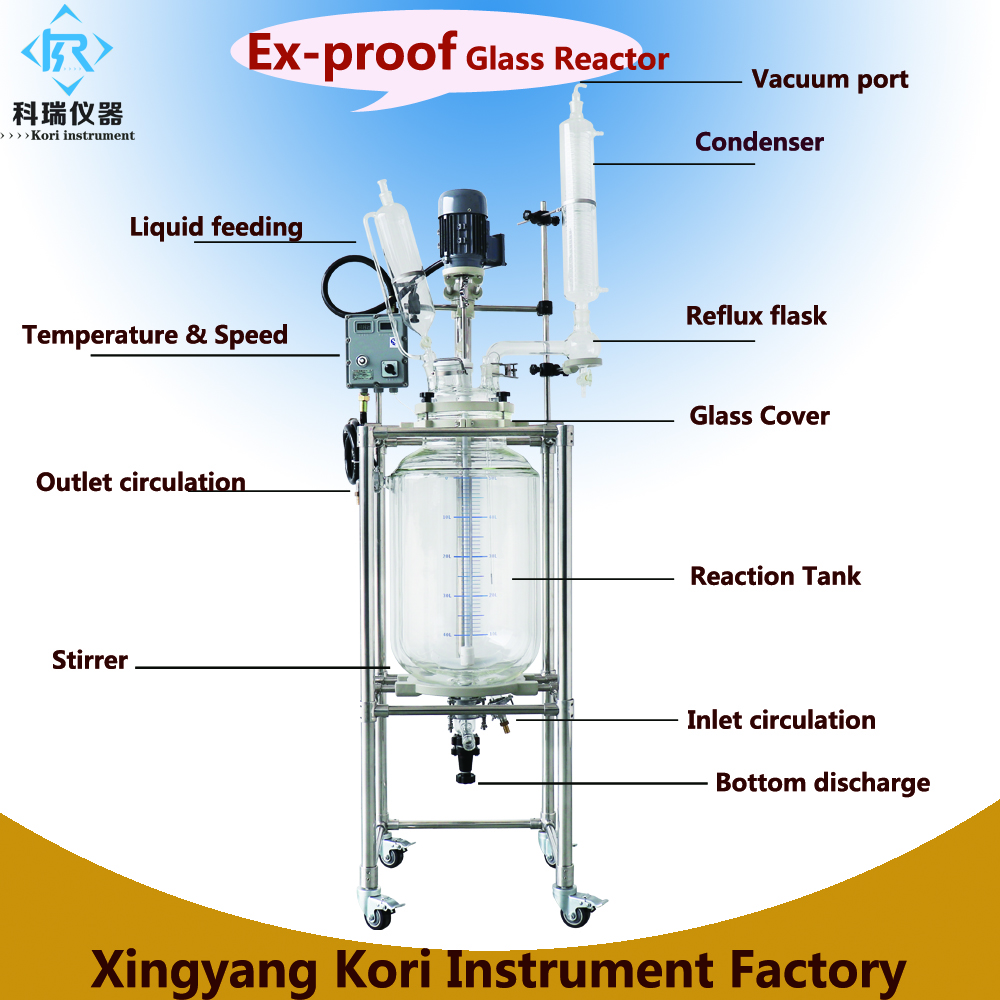 Packaging&Shipping
Packaging details: In wooden case or carton box as you want
Delivery:According to the customer's speed requirements and payment methods, according to the actual situation,choosing the best transportation way.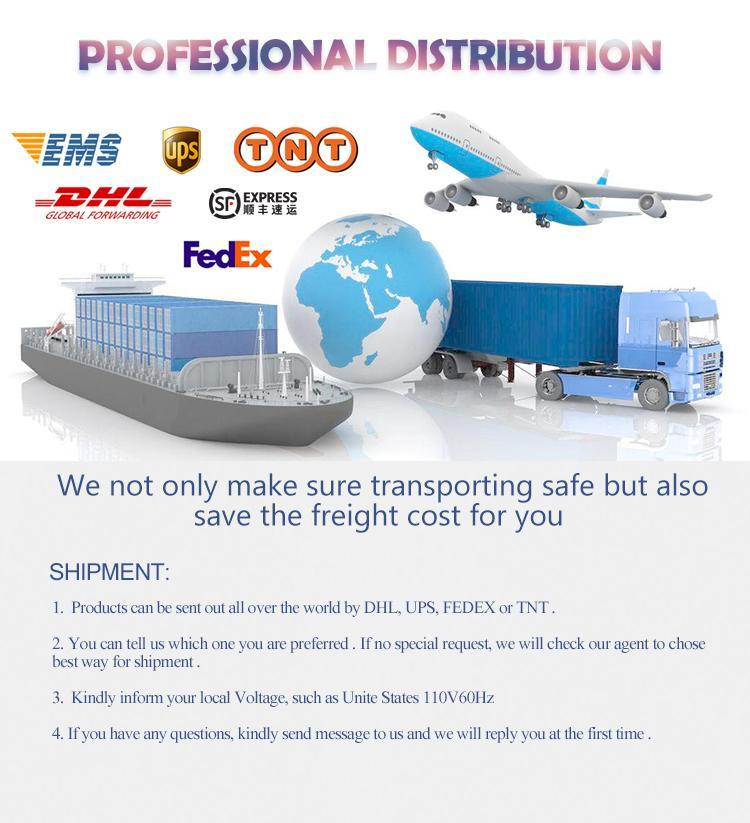 Company Information
Henan Zhongyi Kori Equipment Co.,Ltd is located in Xingyang City, Henan Province. Since the establishment of the factory in 2004, Xingyang Kerui Instrument Factory has made great efforts to research and develop and improve the manufacturing process. After continuous efforts and changes has become a certain scale and strength of scientific research equipment manufacturers.
Our factory is the focus of development and production, integrated management and sales of professional equipment manufacturers. After years of hard development, and the application in absorbing advanced technology both at home and abroad, on the basis of the present company specializing in the production of four series products: series of circulating water pump, reaction bath (bath) at low temperature, low temperature cooling liquid circulating pump, rotary evaporator, single and double layer glass reaction kettle, microwave reactor, heating type magnetic stirrer, electric mixer, water bath pot, electric heating, vacuum drying oven, ultrasonic cleaning machine, lift table and experimental instrument. At the same time, our factory actively develop domestic and instrument agent sales channels, carry out the laboratory conventional instruments and glass instruments professional assembly, development of experimental, pilot, production equipment. Among them, the equipment and instruments produced by our factory are also exported in large quantities. After years of accumulation, our reputation is also recognized by the industry.
Our tenet: "win your sincere trust with our sincere quality." We will continue to adhere to the "honesty, dedication, pioneering, enterprising" professional spirit, and constantly improve the enterprise management system to provide users with perfect pre-sale, sale and after-sales service, life-long product maintenance, with high quality products, for the national colleges and universities, scientific research institutions, pharmaceutical and chemical, food processing, petroleum survey and other experimental services. Welcom friends from all walks of life to visit Xingyang Kerui Instrument Factory to visit, guidance and business negotiation.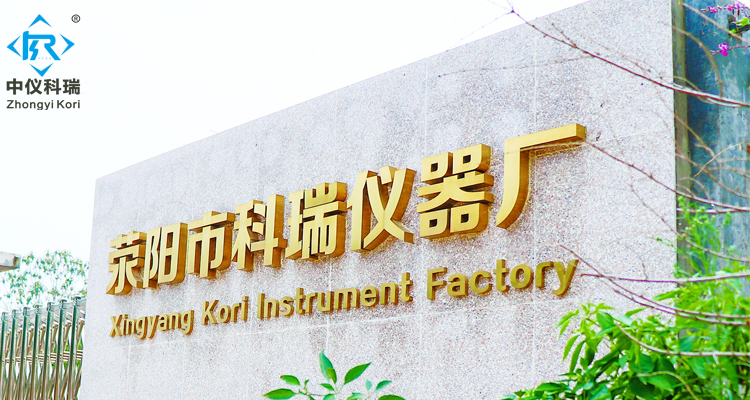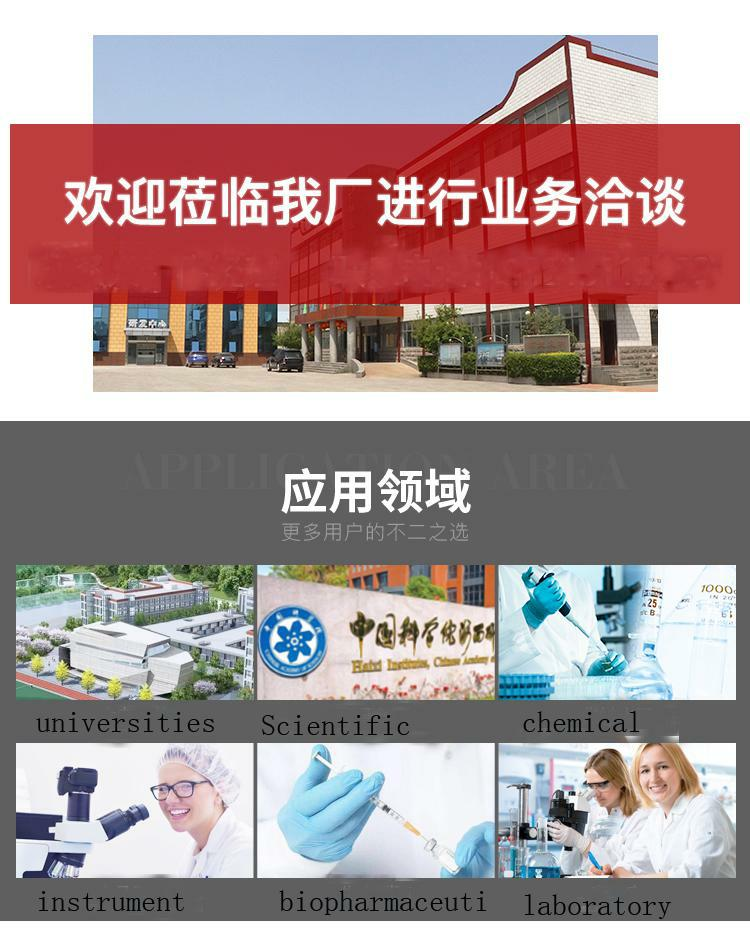 Our services
Pre-sale
1.According to clients' demand, we will offer rationalization proposals to help clients to select proper types.
2.Provide professional quoted price.
3.Provide 24-hour technical consulting reply.
After-sale
1.Under the premise of correct installation, normal maintenance and using, we guarantee one-year warranty period.
2.Damaged glass instruments and wearing parts such as sealing rings are not covered by the warranty.
For more details, please contact us
Zhongyi Kori(Zhengzhou)Equipment Co.,Ltd
Ausrüstungsfabrik Zhongyi Kori (Zhengzhou). Wir befinden uns im Norden Chinas, in der Stadt Zhengzhou, Provinz Henan.
Wir sind ein professioneller Hersteller mit 10 Jahren Erfahrung für Glasreaktoren (einschließlich Einschichtglas).
Reaktoren, Doppelschicht-Glasreaktoren, Dreischicht-Glasreaktoren), Rotationsverdampfer Rotovap, Wärmezirkulationsbad, Kühler, Heizungskühlmaschine, Vakuumpumpe, Heizmantel, Kurzwegdestillation, Wischfilm- Molekulardestillation.
Wir akzeptieren auch kundenspezifische Produkte, wenn Sie spezielle Wünsche haben.
Um mit der Marktnachfrage Schritt zu halten, konzentrieren wir uns auch auf die Entwicklung eines neuen modernen Stils und jetzt haben wir neue
CBD-Destillationsmaschine --- Molekulardestillationssystem mit abgewischtem Film und bitte kontaktieren Sie uns für weitere Informationen.
Qualität und Service sind hauptsächlich Elemente, auf die wir uns konzentrieren. Wir glauben, dass nur gute Qualität sicherstellen kann, dass die Kunden einen guten Nutzen haben und auch in Zukunft Zufriedenheit und langfristige Zusammenarbeit erhalten.
Als Fabrik ist unser Preis sehr vernünftig und wir bieten auch einen langfristigen Ersatzteilsupport nach dem Verkauf. Wenn Sie also Maschinen aus unserem Werk kaufen, erhalten Sie nicht nur eine Maschine, sondern auch einen langfristigen Service. Sie haben in Zukunft keine Sorgen. Wir akzeptieren auch OEM- und ODM-Bestellungen. Wenn Sie also spezielle Wünsche haben, kontaktieren Sie uns bitte für weitere Informationen. Wir können Maschinen als Ihre Anfrage oder Zeichnung anpassen.

Unsere Kunden kommen aus verschiedenen Ländern wie Russland, USA, Kanada, Mexiko, Deutschland, Großbritannien, Italien, Frankreich, Israel, Malaysia, Indonesien, Korea, Japan. Begrüßen Sie Sie, um unsere Fabrik zu besuchen!
Name der Firma: Zhongyi Kori(Zhengzhou)Equipment Co.,Ltd
Vertreter: Dengke Niu
Produkt / Dienstleistung: Glasreaktor , Rotationsverdampfer Rotovap , Nutsche-Filter , Laborheizung Kühlmaschine , Kurzwegdestillation , Hydrothermaler Synthesereaktor
Kapital: 15000000RMB
Jahr Errichtet: 2020
Absatzmenge des Jahres (in Mio. US $): US$1 Million - US$2.5 Million
Exportanteil: 51% - 60%
Jährliche Kaufvolumen (Millionen US $): Below US$1 Million
Zahl der Fertigungslinien: 5
Zahl der Mannschaft der R&D: Fewer than 5 People
Zahl der Mannschaft der QC: Fewer than 5 People
OEM Dienstleistungen verbieten: yes
Größe der Fabrik (Sq.meters):: 1,000-3,000 square meters
Ort der Fabrik: Mugou Village, Gaoshan district, Xingyang,Zhengzhou,China
Ansprechpartner: Ms. Linda
Telefonnummer: 0086-13683828130